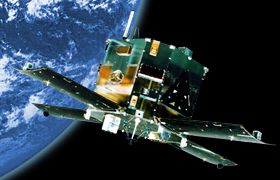 INDEX Spacecraft: Science
Welcome to "INDEX Science" home page!
---
What is "INDEX" ? [in Japanese]

INDEX spacecraft is small "piggy-bag" mission for the studies of spacecraft enginnering and auroral physics.
---
INDEX Science Team
Team members


Rikkyo Univ.
Hirahara, M. [Chief]
hirahara@rikkyo.ac.jp
Tohoku Univ.
Okano, S.
okano@pparc.geophys.tohoku.ac.jp
Sakanoi, T.
tsakanoi@pparc.geophys.tohoku.ac.jp
Inst. Polar Res.
Ejiri, M.
ejiri@uap.nipr.ac.jp
Okada, M.
mokada@uap.nipr.ac.jp
Kikuchi, M.
kikuchi@uap.nipr.ac.jp
ISAS
Mukai, T.
mukai@stp.isas.jaxa.jp
Saito, Y.
saito@stp.isas.jaxa.jp
Asamura, K.
asamura@stp.isas.jaxa.jp
Tanaka, H.
htanaka@stp.isas.jaxa.jp
Kasaba, Y.
kasaba@stp.isas.jaxa.jp

Inside information <<<<< Group members only >>>>>

Information for the construction, data analysis, etc.
---
Related Projects in ISAS
---- on-going ---- ---- past ---- ---- preparing ---- ---- planning ----
---